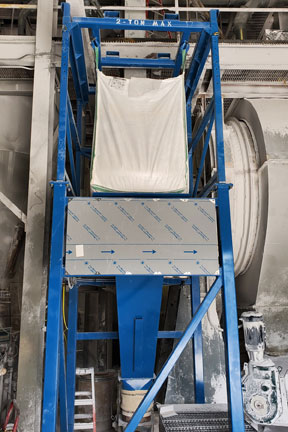 AFC Custom Engineers Bag Discharge Stations with Menu of Options


Clifton, NJ: Process equipment manufacturer Automated Flexible Conveyor, Clifton, NJ, (afcspiralfeeder.com), has unveiled a line of bulk bag unloading stations. Developed to promote the safe discharge and complete emptying of Flexible Intermediate Bulk Containers (FIBC), super sacks, and other bulk bags, the bulk bag unloaders are custom-engineered with a wide range of design options and accessories to accommodate any powder processing application including in hazardous, non-hazardous, and sanitary environments.
The line of bulk bag unloaders may be configured for use with a forklift or with an automated chain hoist to ensure the filled bags are safely raised and held in place while a dust-tight iris valve assembly prevents any material from escaping into the workplace. Suitable for unloading bulk bags with up to 4,000 lbs. of powders, granules, pellets, and other dry, bulk materials, the rugged unloading stations are manufactured in stainless steel or mild steel with industrial or sanitary finish and continuous precision welds. Integrated bag breaking, bag conditioning, weighing, and other equipment are also available as options.
The bulk bag unloaders are designed and manufactured at the company's New Jersey headquarters. Testing with filled FIBCs and other bulk bags is offered live in person and online by live stream in the on-site test center.
For more information, contact Automated Flexible Conveyor, Inc., 55 Walman Ave., Clifton, NJ 07011; 800-694-7271, [email protected]; AFCSpiralFeeder.com.
# # #