Customized for your application
Reliably weigh your products with an accuracy of more than 99%.
Automated Flexible Conveyor's new Batch-Weigh System is a natural addition to the company's multi-purpose Spiralfeeder™ conveyor system. The Batch-Weigh consists of a receiving hopper designed to suit the application, a hopper slide gate to contain the batch quantity, load cells, and the heart of the system, the control panel. The controls incorporate the latest electronic technology in AC Inverter drives and Programmable Logic Controllers (PLC's). Troubleshooting the system can be done with a push of a button on the front panel mounted keypad, with assistance through a menu-oriented LCD display. Components are selected to suit any operating environment, including explosion hazard areas.
The Automated Flexible Conveyor batch weigh System is an integrated weighing system that can weigh single or multiple ingredient(s) from various production equipment locations to a single batching vessel, accurately, reliably each and every time. Advanced weighing technology along with integrated process controls combine to enhance the versatility and scalability of process weighing requirements.
An integrated weigh controller with multi-speed outputs is wired to a variable frequency drive, for greater control of material weighing. Once a recipe has been selected the operator initializes the batch start sequence and the weigh controller takes over. One material at a time will be weighed to its predetermined set point and then the controller will index to the next material and so on till the last ingredient is weighed. Upon completion of the weighing cycle the weigh controller will initiate the dump sequence. The dump sequence will actuate a valve allowing all the contents of the scale to be emptied and the valve will close, thus completing the batching operation.
Single or multiple ingredient(s) recipe storage
Virtually eliminates over or under weighments due to operator error
Reduces costs by reallocating workforce resources
Full numeric keypad for digital tare and data entry
Large backlit graphical display
User programmable soft keys
Addition of a single or multiple material(s) using 2-speed weigh-in procedure
Simplified material setup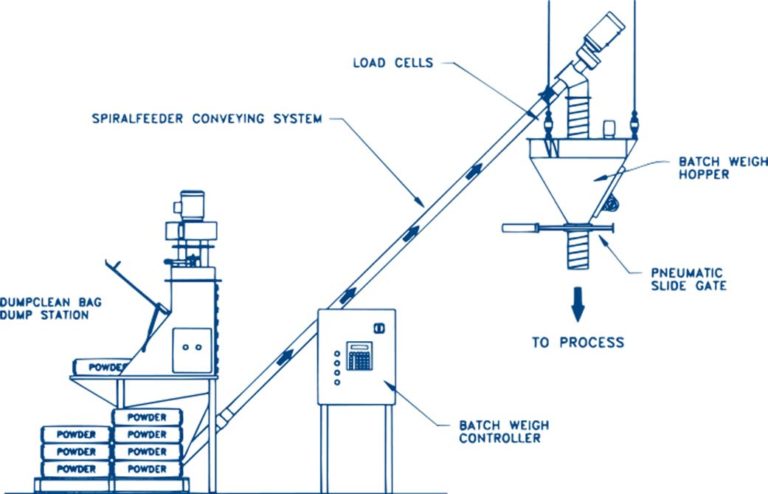 "It works great!" A very reliable piece of equipment that we depend on in our day to day operations.
Detail of batch weigh hopper with load cells & pneumatic discharge valve
Get Started building your custom conveyor system.
Work directly with an engineer to get the perfect solution to your needs.