Learn how our custom-engineered powder processing systems have helped companies Boost safety, efficiency, and profitability

AFC Portable Spiralfeeder for Norvatis Health Care Facility

Afc Zinc Powder Conveyor System handles heavy-duty material

Afc goes to the moon with Lunar Conveying System for ASRC Aerospace
AFC Portable Spiralfeeder for Norvatis Health Care Facility
When the plant engineer at Norvatis Health Care Facility needed a sanitary conveying system that was both portable and capable of unloading their custom-blended bulk materials from their existing mixer, he contacted AFC for a solution.
"Our custom-blended materials can be different from batch to batch, including variables in the bulk density and material flow characteristics. We need a conveying system that can handle all of our products, in addition to being portable and easily cleaned between batches."
The AFC engineered system included our new Hi-Flo Model #45 Spiralfeeder conveyor to address the required conveying rate of up to 6000 lbs. per hour in combination with our low profile True-Flow hopper. The hopper incorporates a motorized agitator and pneumatic vibrator for the less flowable material blends. The portable chassis which supports the entire conveyor assembly is constructed from tubular polished structural tubing and mounted on four  sanitary casters to provide mobility.
Electrical controls are factory mounted and pre-wired. Main control enclosure is rated Nema 4X (wash-down) and UL-approved. This includes an AC variable frequency motor speed control that can be operated at the control box or via the provided remote (cable) footswitch/control. OSHA-approved safety switches are provided at all access covers in addition to a sanitary hopper safety grate.
Conveying System Specs
The system has the provisions for either manual or automatic operation via a low-level sensor located in the feed hopper. Quick disconnect sanitary ferrules are provided for system inspection and/or cleaning.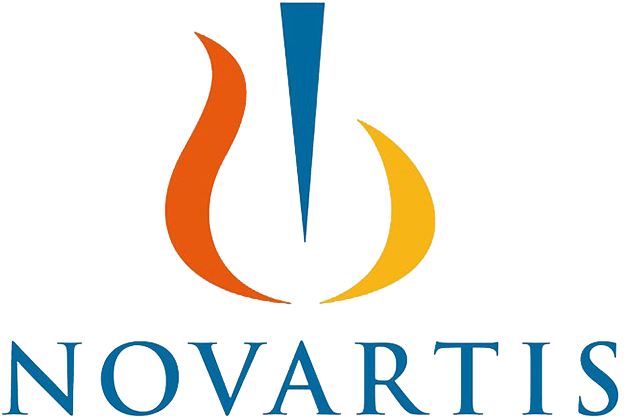 heavy-duty Powder Conveyor System transfers zinc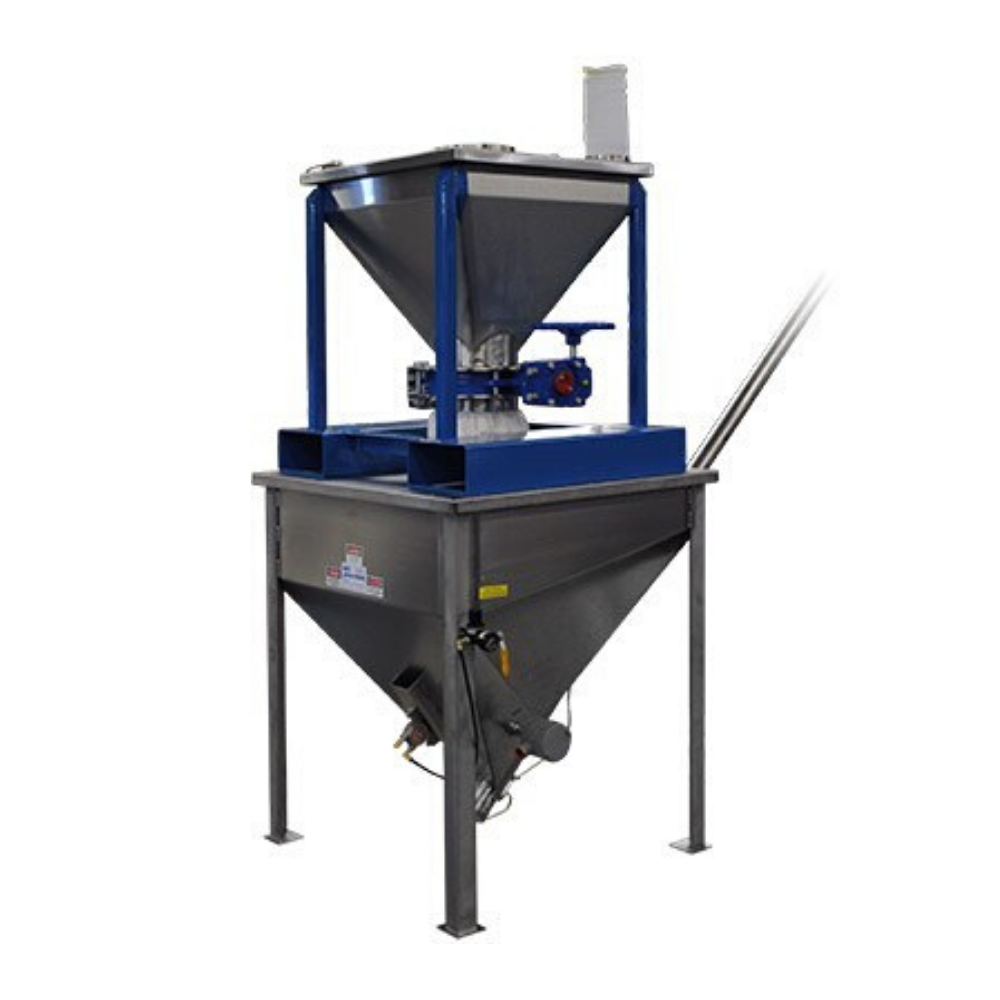 The Zinc Powder Conveyor from AFC is designed to convey zinc powder having a bulk density of 157 lbs. per cubic foot at a controllable rate of up to 24 cubic feet per hour. Material is loaded into the AFC Model #25R(HD)-25 (2 diameter x 25 feet long) heavy-duty series conveyor via a special 8.5 portable Flow Free surge hopper with a diameter flow control butterfly valve.
The surge hopper is positioned directly above the AFC 8.5 True Flow hopper and connected via a flexible sleeve to ensure a dust-tight interface. An exhaust sock is provided to address the air displacement during loading.
The zinc powder is conveyed at a 45-degree angle to an elevation of 18′ 6″ to an existing 60″ diameter vibratory screener. A variable frequency drive is utilized to control the feed rate to the screener. The AFC True Flow hopper incorporates a low-level switch and pneumatic vibrator. The AFC system incorporates an explosion-proof drive and with Nema-4/12 controls which are remotely mounted. Both drive and controls are Atex Approved.
AFC provided a total conveying system, including all controls and drive support mast, and has designed a large number of conveying systems for this US-based company. This zinc powder system continues to operate as specified in Ireland.
Lunar Conveying System for kennedy space center
This photo depicts a prototype lunar soil/oxygen processing system located on a remote Pacific volcanic crater that replicates conditions found on the lunar surface of the moon.
The conveying system features twin AFC screw feeders specifically designed to operate in these conditions. It delivers lunar soil to the oxygen processing system at a controlled rate of feed under the extreme variables of both temperature and zero atmosphere.
The proprietary design twin lift screw feeders were provided as part of this system to ASRC Aerospace, Kennedy Space Center, a leader in the support, design and development of new technology for the future of America's Aerospace programs.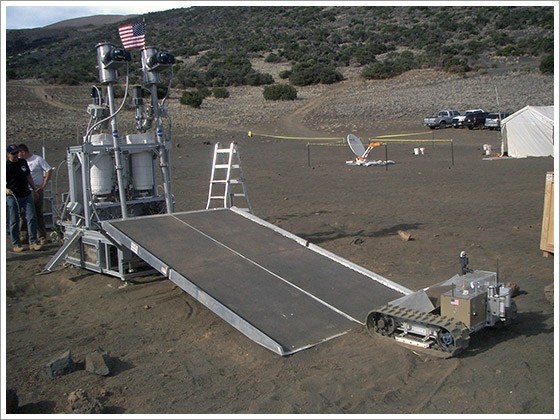 United States Department of Defense Installs New Water Treatment System to Safeguard Drinking Water at Military Base
Providing safe, clean drinking water to military personnel at Joint Base McGuire-Dix in Lakehurst, New Jersey ranks among the top priorities for the 87th Aerospace Medicine Squadron (AMDS) Bioenvironmental Engineering Flight. The 32-member team of engineers and technicians is responsible for managing occupational and environmental health hazards and promoting force health protection for a base population of 45,000 people. This includes ensuring that water quality meets or exceeds federal standards at all times and taking swift action in the event of a potential contamination event. To safeguard the drinking water and provide a backup supply in the event of a disruption to the existing treatment system, the  Bioenvironmental Engineering Flight recently installed a new water treatment plant. 
Designed to treat the well water for iron, manganese, and other potential contaminants, and to neutralize the pH, the new water plant sets dual processing lines with identical equipment side by side in a new building. The treatment process begins with a worker emptying 50 lb. bags of powdered lime into a bag dump station. These AFC Dump-CleanTM  bag break stations from Automated Flexible Conveyor, Clifton, New Jersey, automatically draw the material into the system for loading into the process while capturing any fine particles and preventing nuisance dust from escaping into the plant environment. A built-in, automated filtration system collects and recovers any dust for reuse. 
The Dump-Clean bag stations are set atop AFC SPIRALFEEDER® flexible screw conveyors, and via a sealed connection, the lime is discharged into the MORE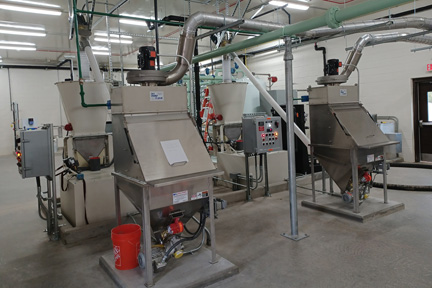 Get Started building your custom conveyor system.
Work directly with an experienced engineer who understands how to convey powders and bulk solid materials so you get the perfect solution for your process.