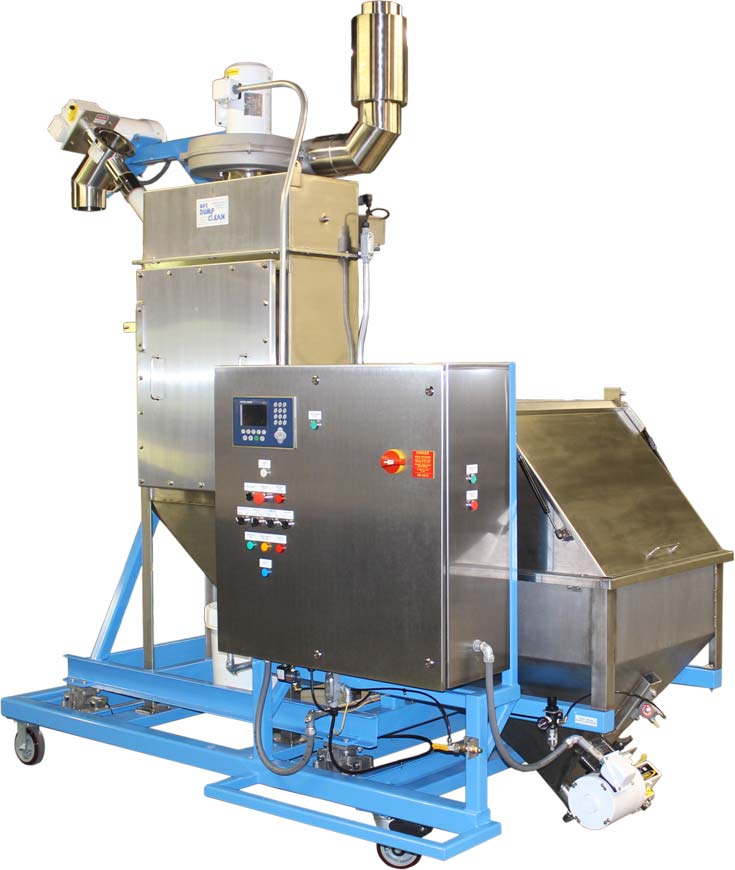 Automated Powder Dispensing System
AFC Batch-Weigh System Rolls to Mixer, Reactor, Hopper
Clifton, NJ: Process equipment manufacturer Automated Flexible Conveyor, Clifton, NJ, (afcspiralfeeder.com), has introduced a mobile version of its Batch-Weigh automated powder dispensing system. Offered as an option, the mobile Batch-Weigh system was developed to enable powder processors to safely and easily roll the screw conveying system from one tank, vessel, mixer, hopper, or other location to another, or from one processing line to another, without investing in multiple powder conveying systems. The clever conveyor may be used to automatically transfer, weigh, and dispense precise amounts of powders, pellets, flakes, and other bulk materials then quickly cleaned  and rolled to the next location.
Suitable for movement and operation in any sanitary, hazardous, and non-hazardous production environment, the mobile Batch-Weigh System sets the company's fully automated weighing and batching system on a rugged, steel frame atop durable, non-marking casters. The self-contained powder conveyor integrates the company's  flexible screw conveyor with companion infeed hopper, weigh hopper, load cells, pneumatic slide gate, proprietary drive, and PLC-based controls to achieve 99% or better batch weighing accuracy. Batch-to-batch consistency and throughput are improved while the potential for operator error is virtually eliminated.
The mobile Batch-Weigh System is designed and manufactured at the company's New Jersey headquarters. Product and performance testing are offered live in person and online by live stream in the on-site test center.
For more information, contact Automated Flexible Conveyor, Inc., 55 Walman Ave., Clifton, NJ 07011; 800-694-7271, [email protected]; AFCSpiralFeeder.com.
# # #