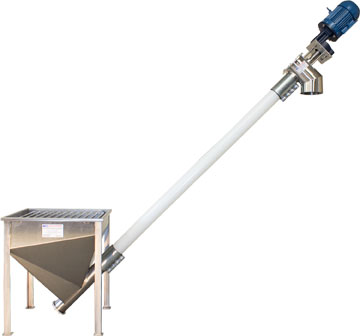 AFC SPIRALFEEDERS Automatically Transfer Bulk Materials Dust-Free


Clifton, NJ: Process equipment manufacturer Automated Flexible Conveyor, Clifton, NJ, (afcspiralfeeder.com), has unveiled the SPIRALFEEDER® line of flexible screw conveyors. Encompassing sanitary, standard, and portable models, plus custom designs, the SPIRALFEEDER line sets a rotating screw auger within an enclosed outer tube to automatically transfer powders, granules, blends, flakes, and/or other dry, bulk materials from one point in the process to another within a sealed, dust-tight system. The line of conveyors is frequently used for transferring one or multiple materials from or into hoppers, mixers, reactors, tablet presses, bulk bag fillers and other equipment when gentle, quiet, reliable conveying is required.
The sanitary SPIRALFEEDER features a stainless steel screw auger and infeed hopper with continuous welds, polished finish and FDA/USDA-approved UHMW polyethylene outer tube for processing food, pharmaceutical, nutrition, and other products. The standard model SPIRALFEEDER includes a heavy-duty screw auger in a choice of carbon or stainless steel with an industrial finish while the portable model sets the entire mechanical conveying system on rugged, non-marking casters for easy movement from one area to another.
Made in USA, the SPIRALFEEDER line of conveyors is designed and manufactured at the company's New Jersey headquarters. Product and performance testing are offered live in person and online by live stream from the on-site test center.
For more information, contact Automated Flexible Conveyor, Inc., 55 Walman Ave., Clifton, NJ 07011; 800-694-7271, [email protected]; AFCSpiralFeeder.com.
# # #