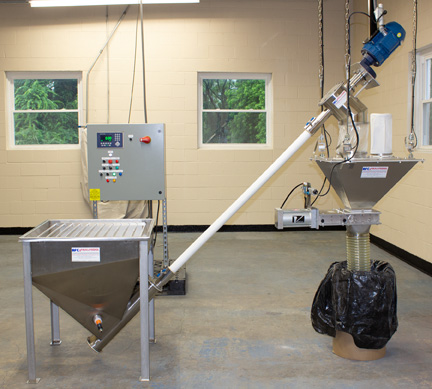 Option from AFC Defines Lots, Prints Tracking Labels
Clifton, NJ: The Batch-Weigh integrated conveying and weighing system from process equipment manufacturer Automated Flexible Conveyor, Clifton, NJ, (afcspiralfeeder.com), features an optional lot traceability system to track and trace discharged material as individual lots. Developed to aid in compliance with the FDA Food Safety Modernization Act (FSMA) and speed identification in the event of a recall, the Batch-Weigh for lot traceability enables manufacturers to set a positive production cutoff based on fill weight, time, operator, shift, or other criteria. The material tracking system integrates the company's process control system for data archiving and reporting with a label printer to assign lot codes for filled bags, sacks, or other containers.
Suitable for food, chemical, nutrition, pharmaceutical and other manufacturers operating in sanitary and non-sanitary production environments, the novel bulk material system provides a clear chain of trackable records from each production run that may be easily accessed on-site at the machine or remotely, 24/7. The Batch-Weigh System with lot tracing automatically transfers, weighs, and dispenses precise amounts of powders, pellets, flakes, and other bulk materials via a flexible screw conveyor into bulk bags, mixers, hoppers, and containers with a 99% or better batch weighing accuracy.
The Batch-Weigh System with optional lot coding functionality is designed, manufactured, and pre-programmed in the company's Clifton, New Jersey facility. Product testing is offered using full-size equipment in an on-site test laboratory.
For more information, contact Automated Flexible Conveyor, Inc., 55 Walman Ave., Clifton, NJ 07011; 800-694-7271, [email protected]; AFCSpiralFeeder.com.
# # #