Customized for your application
Convey more for less with the new AFC PORTABLE SPIRALFEEDER
With our innovative screw conveyor design, the AFC Portable Spiralfeeder combines the low cost and reliability of our Spiralfeeder™ with the high capacity flow of pneumatic conveyors. Get 50% more bulk material flow than traditional screw conveyors of equal size — or use the Portable Spiralfeeder as a less costly alternative to a vacuum and other similar conveyor systems.
And this conveying system rolls from one area to another!
Read more about why to choose a spiral conveyor for powder bulk solids processing over a vacuum or pneumatic model.
The versatile Automated Flexible Conveyor portable Spiralfeeder system is custom engineered to meet exacting specifications based on the materials conveyed, production targets, regulatory environment, and more. Built around and based on our proprietary Spiralfeeder platforms, this mobile system is set on a self-supporting, rolling chassis. Just roll it to the mixer, tank or other point in the process and press start. It offers a level of manufacturing flexibility that has not been duplicated.
The hopper or charging inlet is rigidly mounted to the base of the portable chassis. The drive motor, gear box and outlet adapter are rigidly mounted and suspended by the drive support section of the portable chassis. It's strong, sturdy, and stable.
The spiral moves the material by rotational displacement from the charging inlet en-masse, up the outer tube, then discharges the material out the top of the outlet adapter. Rotational speed, diameter and pitch of the spiral, along with other key dimensional factors, define the overall performance of the Spiralfeeder system. These factors are considered and tested before production.
Ergonomic design puts the operator at the correct loading height
Minimal assembly 
Dust tight operation
Reduces costs by reallocating equipment resources to other production areas
Safety grate installs with just one mounting tab
Fully welded construction
Complete electrical wiring included as option
When properly optioned and equipped, the portable Spiralfeeder can run in a full manual/ operator mode as well as a fully automatic mode. Automatic mode can be controlled by low and/or high level signals. Dry contact inputs can also be integrated into the control logic for external signal interfacing and multi-speed operation when equipped with a variable frequency drive.
Mild steel construction
Stainless steel construction: T-304 or T316
Industrial or sanitary finish
Loss-of-weight configurations
Hazardous and non-hazardous locations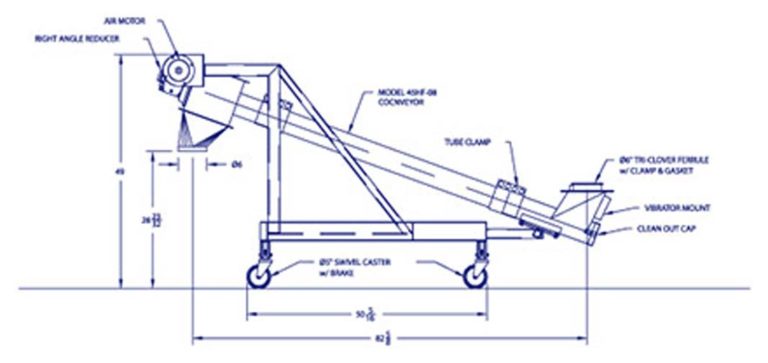 We are very pleased and impressed with the quality, design, performance and value of the AFC system we received.
AFC Portable Spiralfeeder
Get Started building your custom conveyor system.
Work directly with an experienced engineer who understands how to convey powders and bulk solid materials so you get the perfect solution for your process.