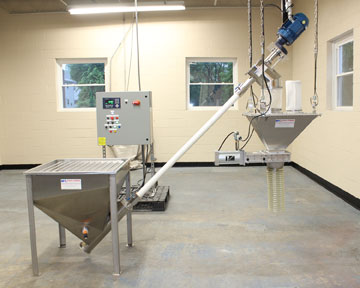 AFC Automates Adjustments for Different Materials and Weights
Clifton, NJ: The Batch-Weigh System from process equipment manufacturer Automated Flexible Conveyor, Clifton, NJ, (afcspiralfeeder.com), offers optional recipe storage and recall to automate adjustments to the integrated weighing and conveying system for fast product changeovers and reduced risk of operator error. Storing settings for up to 25 recipes, the Batch-Weigh System saves the fill weight per batch, fast feed rate, slow feed rate, pre-act weight, and other parameters, and implements the adjustments automatically at the push of a button on the PLC-based control panel. By ensuring the proper settings are used every time, batch-to-batch consistency and quality control are significantly improved versus manual and semi-automated processes.
Ideal for food, nutrition, chemical, pharmaceutical, and other companies requiring accurate weighing and precise dosing, the Batch-Weigh System with recipe storage is typically specified when materials are frequently changed, when a single material is discharged in a variety of different batch sizes, and when human involvement is to be minimized. The bulk material handling system may be configured to automatically transfer, weigh, and dispense one or multiple materials fed from one or multiple equipment locations to a common discharge location, achieving a 99% or better batch weighing accuracy every time.
The Batch-Weigh System with recipe storage is designed and manufactured at the company's New Jersey headquarters. Product and performance testing are offered live in person and online by live stream in the on-site test center.
For more information, contact Automated Flexible Conveyor, Inc., 55 Walman Ave., Clifton, NJ 07011; 800-694-7271, [email protected]; AFCSpiralFeeder.com.
# # #