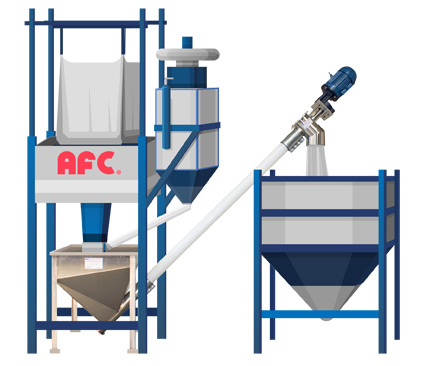 AFC Custom Engineers Bag Discharge Station to Capture, Reuse Fines


Clifton, NJ: Process equipment manufacturer Automated Flexible Conveyor, Clifton, NJ, (afcspiralfeeder.com), has unveiled a bulk bag unloading station with optional integrated dust recovery system. Developed to prevent dust infiltration into the workplace and maximize the value of precious materials, the dust-free AFC BBU features a proprietary vacuum cartridge design that creates a downdraft during bulk bag discharge to promote free flow while automatically capturing and filtering any fine particulates before they can escape the process. The recovered fines may be automatically returned to the system as additional material or neatly collected for disposal.
Reusing fine particles as invaluable material previously lost as waste, the novel AFC BBU offers an extra layer of dust control protection during the untying, emptying, and removal of Flexible Intermediate Bulk Containers (FIBC), super sacks, and other bulk bags when the risk of nuisance dust infiltration is high. The AFC BBU is suitable for unloading bulk bags with up to 4,000 lbs. of material and may be configured for use with a forklift or with an automated chain hoist. The bulk bag unloader is custom-engineered to accommodate any powder processing application including for sanitary, hazardous, and non-hazardous environments.
The AFC bulk bag unloaders are designed and manufactured at the company's New Jersey headquarters. Testing with filled FIBCs and other bulk bags is offered live in person and online by live stream in the on-site test center.
For more information, contact Automated Flexible Conveyor, Inc., 55 Walman Ave., Clifton, NJ 07011; 800-694-7271, [email protected]; AFCSpiralFeeder.com.
# # #