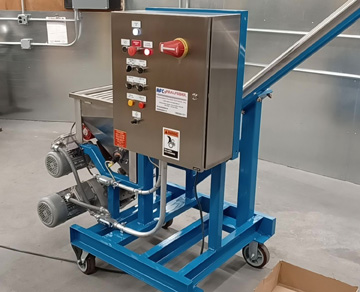 AFC SPIRALFEEDER® Speeds Residual Material Removal

Clifton, NJ: The SPIRALFEEDER® Push Unit solid screw conveyor from process equipment manufacturer Automated Flexible Conveyor, Clifton, NJ, (afcspiralfeeder.com), features a proprietary design that invites full access to the bottom of the hopper and tube inlet for easy emptying of residual material with no tools. Devised to speed cleaning between batches and support fast changeovers, the innovative AFC Push Unit sets the drive mechanism, hopper, and screw conveyor off the floor on a rolling, open, steel frame. To empty the system, an operator simply shuts off the power, removes a tri-clover fitting, places a collection bin or bag underneath the conveying tube, then turns the screw conveyor on in reverse. Material entrained inside is automatically collected for return to storage or for reuse with no mess.
Ideal for food, nutrition, chemical, pharmaceutical, and other companies transferring a variety of powders, granules, pellets, and other dry, bulk materials, the versatile AFC Push Unit may be emptied and readied for the next material or batch in two minutes and/or quickly disassembled for complete cleaning in sanitary environments. A single AFC Push Unit may be used to serve multiple processing lines.
Made in USA, the Push Unit auger conveyor is designed and manufactured at the company's New Jersey headquarters. The conveying system is delivered pre-wired, tested, and ready to plug in and operate.
For more information, contact Automated Flexible Conveyor, Inc., 55 Walman Ave., Clifton, NJ 07011; 800-694-7271, [email protected]; AFCSpiralFeeder.com.
# # #