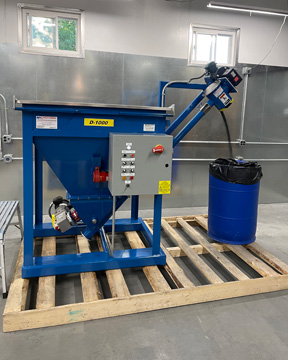 New Fork Truck Hopper Permits Easy Transport from One Location to Another
Clifton, NJ: Process equipment manufacturer Automated Flexible Conveyor, Clifton, NJ, (afcspiralfeeder.com), has introduced the FTH-25 SPIRALFEEDER® mobile flexible screw conveyor. Featuring designed-in fork pockets in the base, the Fork Truck Hopper (FTH) 25 SPIRALFEEDER was developed to permit safe, easy transport by forklift from one plant location to another. After filling the hopper via bulk bag unloader, sack tip station, or manual bag emptying, the portable flexible screw conveyor may be moved directly to the mixer, lump breaker, filling line or other stage in the process for discharge.
Ideal for food, chemical, pharmaceutical, and other companies minimizing manual powder handling, the FTH-25 SPIRALFEEDER automatically transfers powders, pellets, and other dry, bulk materials from the hopper to discharge via a screw auger rotating inside an enclosed tube. The dust-tight conveying system also includes a split hinged aluminum hopper cover that keeps the material inside during transport and prevents fine particles from escaping into the plant environment.
Made in USA, the new FTH-25 SPIRALFEEDER screw conveyor is designed and manufactured at the company's New Jersey headquarters. The conveying system is delivered pre-wired, tested, and ready to plug in and operate.
For more information, contact Automated Flexible Conveyor, Inc., 55 Walman Ave., Clifton, NJ 07011; 800-694-7271, [email protected]; AFCSpiralFeeder.com.
# # #