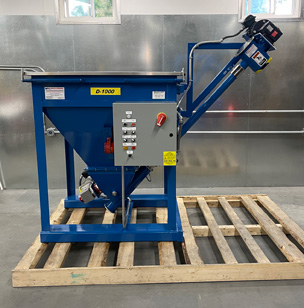 Screw Conveying System Proven in Government Installations
Clifton, NJ: SPIRALFEEDER® flexible screw conveyors from process equipment manufacturer Automated Flexible Conveyor, Clifton, NJ, (afcspiralfeeder.com), meet military specifications (MIL-SPEC). Compliant with MIL-STD-961E: Defense and Program-Unique Specifications Format and Content, the SPIRALFEEDER conveying system meets the United States Department of Defense requirements for quality in design, fabrication, and materials, as well as in availability, interchangeability, and low cost considerations. The Milspec SPIRALFEEDER automatically transfers powders and other bulk materials via a screw conveyor set within an enclosed tube that protects the material in process from contamination and protects workers from dust exposure.
Approved for specification by the United States military and its partner contractors serving government agencies at all levels, the MIL-SPEC SPIRALFEEDER is proven in transferring simulated lunar soil for NASA at Kennedy Space Center, Merrit Island, FL, in transferring powders for water treatment at military bases, and in a variety of other installations that cannot be disclosed. The SPIRALFEEDER screw conveyor is designed and manufactured at the company's approved New Jersey facility using approved procedures and quality tested in the on-site test lab prior to delivery and installation.
For more information, contact Automated Flexible Conveyor, Inc., 55 Walman Ave., Clifton, NJ 07011; 800-694-7271, [email protected]; AFCSpiralFeeder.com.
# # #